Dear visitors,
We are proud to introduce you GCP-Service Training & Consulting. We inherited a tradition in this area from Prague company DUX Training and Education, organizing face-to-face trainings since 2004. Face-to- face courses are focused on good clinical practice, clinical investigations of medical devices, pharmacovigilance, regulatory affairs or biostatistics; they are organized in cooperation with Czech Association of Pharmaceutical Medicine. Our highlight is the complex course in Pharmaceutical Medicine, the partner of which is the 1st Medical Faculty of Charles University. Highly qualified lecturers and interactive setup are standard in our courses.
Not only Covid-19 showed us that e-learning became one of the training standards. In cooperation with our German partner, a corporate group GCP-Service International, we offer on-line courses in good clinical practice (available in the English and soon also in Czech language) and in ISO 14155 for clinical investigations of medical devices (available in English).
Courses are intended not only for pharmaceutical professionals, but also for investigators and their teams. Some of them are credited with Continuous Medical Education points or Czech Medical Chamber credits. For more information please check this web site or contact us at training@gcp-training.cz.
We are looking forward to see you on our courses.
Jiri Pasekaon behalf of GCP-Service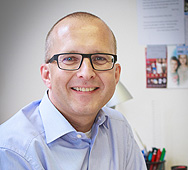 Jiri Paseka, M.D. - a founder of DUX Training and Education, has been focusing on R&D Trainings for almost twenty years. Jiri is now in charge of GCP-Service Training & Consulting where, in addition to giving lectures, he also designs the trainings. He is regularly invited to speak on TOPRA (The Organization for Professionals in Regulatory Affairs) international courses. Jiri is a co-author of the textbook "Monitoring, audit and inspection of clinical trials". He enjoys sharing his knowledge or experience with other people.